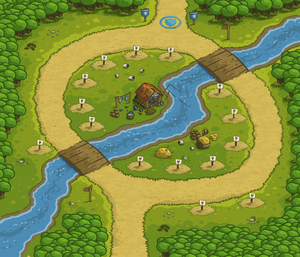 Enemy troops are marching from the East through the Stonecliff Mountains. This can only mean that Hammerhold has fallen, and our Kingdom's capital is in peril.
Our scouts conclude that the best place to stop our enemy's advance is at the Twin Rivers pass.'
Twin Rivers, called Twin River Pass on iPad, is the fourth level in the game comprised of thirteen waves. The map features two entry points, each leading to widely spread routes to the west and the east. There are two choke points at the start and the end of the road. Level 3 Towers are unlocked on this level.
Scenery
Wave Composition
| | | | |
| --- | --- | --- | --- |
| Wave | Enemies (West) | Enemies (East) | Income |
| 1 | Goblin x150 | Wulf x150 | 1200 |

TWIN RIVERS ANGLER Catch a Fish.
Events
You can now upgrade your towers up to level 3.

|

|

|


Swift & agile, they can dispatch
their enemies very quickly.
– Fast speed
– Very high damage
– Can dodge melee attacks
Bandits can easily obliterate
your low level
soldiers
.

Armored outlaws that can
withstand a lot of punishment.
– Average speed
– Armored