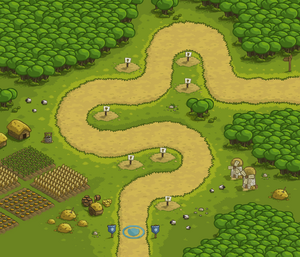 Now, their forward troops are creeping towards the defenseless rural communities north of Southport.
We must establish an efficient and swift defense."
The Farmlands, known as The Outskirts on the iOS and Android versions, is the second level in the game comprised of seven waves. The player starts with seven Strategic Points to build at. Level 2 Towers are unlocked on this level.
Scenery
Wave Composition
The player starts with 220 Gold.
Events
You can now upgrade your towers up to level 2.
|
|

|

Strategy Basics!
Barracks
are good for blocking the enemy,
but lack in attack power. Make sure you have
enough firepower to support them!

Very fast vicious creatures
that can dodge melee attacks.
– Can dodge melee attacks
– Low health
– Very fast speed
Use
soldiers
to block them
so they don't overwhelm you.
Ad blocker interference detected!
Wikia is a free-to-use site that makes money from advertising. We have a modified experience for viewers using ad blockers

Wikia is not accessible if you've made further modifications. Remove the custom ad blocker rule(s) and the page will load as expected.