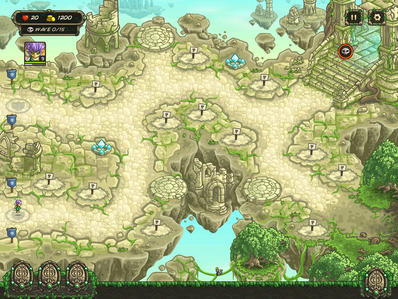 We are still amazed at how deep the evil face runs. None less than Mactans, one of the Ancient Spider Queens.
General, the scouts you sent followed Malicia's and Mactans' trail. They have fled to the awe-inspiriting floating ruins of the First City, where our race originated from and where no Elf has set foot in centuries.
A massive Twilight army awaits us there... no time to catch our breath, the goddess Elynie herself might be in peril!
The Ascent is the twelfth level in Kingdom Rush: Origins. Sorcerer's Stones are introduced for the first time.
Scenery
Wave Composition
Events
I LIKE TO MOVE IT Entertain the funny lemur.
Trivia