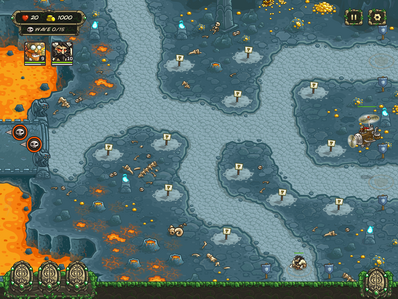 General!
The once proud and powerful dwarves have been exterminated by a powerful demon released by mistake.
We must avenge our former allies and defeat Godieth the Infernal before he reaches the surface and unleashes a reign of terror.
Tainted Pit is an elite stage in Kingdom Rush: Origins, the second and final one in the Forgotten Treasures mini-campaign. It is unlocked by beating Dwaraman Gates. The secondary hero Bolverk appears in this level.
Scenery
Waves
Campaign
Godieth attacks after wave 15. This is not counted as a wave.
Events

They are the sons of Godieth.
Their power infuses fear even
in the bravest of soldiers.
– High armor
– Regeneration
– Blood pact

THE BANNER SAGA Have Bolverk kill 100 enemies

THE PICK OF DESTINY Defeat Godieth the Dark Balrog