Sarelgaz
Talk

0
296pages on
this wiki
Sarelgaz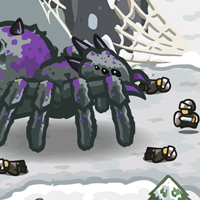 | | |
| --- | --- |
| HP | 18000 |
| Damage | 300-500 |
| Armor Rating | None |
| Magic Resistance | None |
| Speed | Slow |
| Lives Taken | 20 |
| Bounty | N/A |
| Sprites | |
Sarelgaz
is the boss of the elite stage
Sarelgaz's Lair
in
Kingdom Rush
.
Description
One of the legendary spider queens, Sarelgaz rules the Northern lands.
Sarelgaz is the classic damage-sponge boss. She does not have any special ability, not even an area attack - the only thing she can do is eat soldiers. She's just got an astronomically high HP (18000) and a huge horde of minions.
Strategy
One or two well-placed Tesla x104 will completely wreak 66% of Sarelgaz's army (which consists of Spider Matriarchs), allowing other towers to concentrate on the remaining 33% worth of Sons of Sarelgaz as well as Sarelgaz herself.
Do not send melee heroes against Sarelgaz - they'll instantly be eaten. Instead, use them to destroy her army.
Appearances