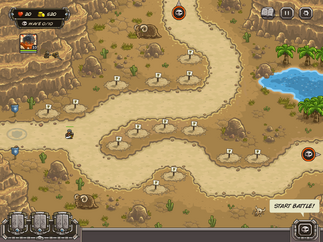 Our armies have amassed under your command,as we pursue Lord Malagar across the Azsare desert!
We have followed his trail to the Sape Oasis, one of the few green spots in this wasteland.As such, the nomad tribes do not take kindly to trespassers, so don't provoke the desert's fiercest denizens, the Duskar!
Sape Oasis is the third level of Kingdom Rush: Frontiers.The player starts with 520 Gold. The stage has two entry points in north and east and only one exit in west. Level 3 towers are unlocked at this stage.
Wave Composition
Events

ONE FROGGY EVENING Find the singing frog.
In the oasis in the top right corner, a frog will occasionally jump out from behind a tree. If you're quick enough to click on him he'l grab a top hat and cane and start to dance. The achievement and frog that appear are based on a Merry Melodies cartoon.

ORGANIC IMPULSE Make a Desert Bantah move.
Two Desert Bantahs are minding their own business. Like most critters in Kingdom Rush, they can be clicked on. Click on one a few times to make it move.
Ad blocker interference detected!
Wikia is a free-to-use site that makes money from advertising. We have a modified experience for viewers using ad blockers

Wikia is not accessible if you've made further modifications. Remove the custom ad blocker rule(s) and the page will load as expected.