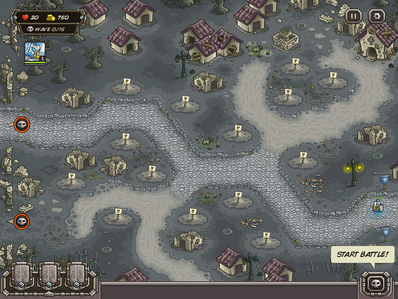 General, our Kingdom is in peril once again! King Banesti, of neighbouring Niroma was on his way here for the "Great Tournament of the Kingdoms", but he was captured at Mournful Valley. His people would never forgive us if something happened to the elderly sovereign, it could lead to war between our two realms!
The fastest route to the valley is, I'm afraid, the Royal Roadway, through the infamous Rotwick.
Rotwick is the twenty-third stage in Kingdom Rush and the first of the Curse of Castle Blackburn mini-campaign available in the Steam, iOS, and Android versions.
Scenery
Wave Composition
Events

Reanimated mindless corpses
of innocent victims... brains
are all they crave....
– Slow speed
Vicious rodents with razor
sharp teeth that can tear
through almost anything.
– Fast speed
– Spreads deadly disease

Driven by hunger and hate,
these vile creatures revel
in rot and decay.
– Fast speed
– Low armor
– Spreads deadly disease