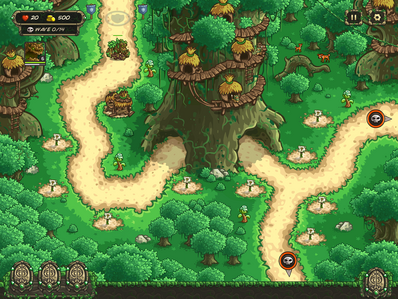 The Gnoll hills must be empty, because it looks like every single one of those vile creatures has come to invade our lands!
We have fought without rest, defeating one band after another, but a larger force aims to destroy the Great Redwood.
The treefolk are fighting valiantly to defend their home, but they are barely holding... we must rush to their aid!
Redwood Stand is the fourth level in Kingdom Rush: Origins. Arcane Archers are unlocked in this stage.
Scenery
Campaign
Heroic Challenge
Iron Challenge
Wave Composition
Events

Arcane archers shoot magic
arrows that weaken their target's
magic resistance.

Defilers of nature that
command forces of death and
decay.
– High magic resistance
– Slow speed

Two-head and dim-witted,
these vicious giants wield
trees as maces.
– Fast health regeneration
– High health
– Slow speed

BRAVE LITTLE TAILOR Don't let the hero die against an Ettin on Stage 4.

GEORGE FALL Find George!
In the upper right hand corner there is a vine. Tap it a few times and wait...
Trivia
The achievement George Fall may be a reference to George of the Jungle, A man who always crashes in to trees.
Ad blocker interference detected!
Wikia is a free-to-use site that makes money from advertising. We have a modified experience for viewers using ad blockers

Wikia is not accessible if you've made further modifications. Remove the custom ad blocker rule(s) and the page will load as expected.