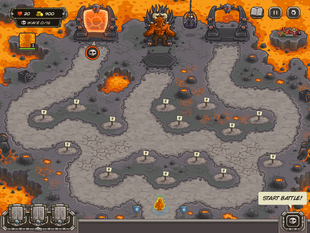 We face Moloch, one of the Great Demon Lords. Our sages have discovered that it was he who opened the portal, leading to Pandaemonium, a fearsome hellish plane.
You have sworn to follow our King even into hell itself... and that's exactly where you're going...
Pandaemonium is the twenty-first stage in Kingdom Rush and the second one in the Burning Torment mini-campaign. Pit of Fire must be completed in order to unlock it. It is not available on Flash.
Scenery
Waves

 HELL-O! Defeat Moloch the Demon Overlord.
Trivia