Linirea is the capital of the kingdom Linirea in
Kingdom Rush
and
Kingdom Rush: Frontiers
. The sixth level of Kingdom Rush,
the Citadel
, takes place within the city when enemy troops invade. In this level, dead soldiers and
sheep
are lying on the grass. This might have been caused by previous attacks on the capital.
After defending the Capital against the enemy troops, the King will give you the mission of clearing a path through the mountains to attack Vez'nan at the Dark Tower.
Imperial Guards
are found in Linirea, and they appear to be the King's Guards. Seven of these guards are in the Citadel.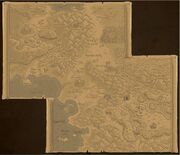 Imperial Saviour Complete the Citadel with at least 3 surviving Imperial Guards. 
Ad blocker interference detected!
Wikia is a free-to-use site that makes money from advertising. We have a modified experience for viewers using ad blockers

Wikia is not accessible if you've made further modifications. Remove the custom ad blocker rule(s) and the page will load as expected.