Kingdom Rush
Talk

0
315pages on
this wiki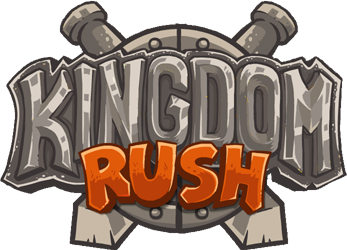 Kingdom Rush is a fantasy tower-defence game created by Ironhide Game Studio and sponsored by Armor Games. First released on 28 July 2011, it grew to be immensely popular and has racked up a total of over 52 million plays on Armor Games alone.
The Premium Content was released on 17 August 2011, for a minimum price of $5.99 (on Armor Games) or 60 Kreds (on Kongregate), adding several bonus stages, heroes, a new spell, and a few other extras. Kingdom Rush was released on the iPad on 19 December 2011, and on Android on 15 May 2013, priced at $2.99 (standard) or $4,99 (HD), with the bonus stages and heroes but without the extras.
A sequel, titled Kingdom Rush: Frontiers, was released on the 6th of June, 2013, and a version for Steam on 6 January 2014, with an exclusive 4-stage campaign, The Curse of Castle Blackburn, released on 4 July 2014.
Description
A basic tower defence game, Kingdom Rush consists of placing towers on the side of a path to destroy enemies that appear in predetermined waves. The objective is to defeat all the waves before they reach the end of the path, using the towers and certain abilities. Letting too many enemies through results in a Game Over.
With distinctive towers to use, enemies to defeat, and stages to complete, the gameplay is extremely varied and allows for many interesting ways to play.
Reception
Kingdom Rush has been met with unanimously positive reviews and has won many awards:
ArmorGames.com (best rated game)
Kongregate.com (best rated game)
2012
Mochi Awards 2012 (Community Choice)
Mochi Awards 2012 (Best Strategy Game)
2011
JayisGames.com (Casual Gameplay) Game of the Year 2011
JayisGames.com (Casual Gameplay) Best Strategy Game 2011
IGN (Score 9 out of 10) Editor's Choice
Slide2Play (4+ Must Have)
Gamezebo.com (4.5 out of 5 Stars)
148Apps (4.5 Stars out of 5) Editor's Choice
PocketGamer (Gold Award - Score 9)
toucharcade.com (4.5 stars out of 5)