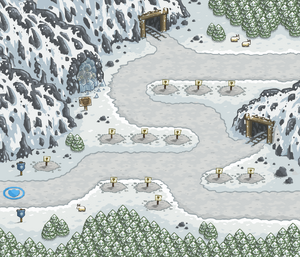 "There is no place colder in these mountains than Icewind Pass, but we must advance.
Our men have been besieged by Ha'kraj Trolls for days, and our scouts report enemy troop movements around us... And something else, something wilder.
If we are to make a stand here, this is a good place to install some of our new artillery emplacements, and to construct a Barbarian Mead Hall so we may entertain our more colorful troops."
Icewind Pass is the eighth level in the game comprised of eighteen waves. The player starts with 800 Gold and twelve Strategic Points to build at. It is the second of two scenarios to have short-cuts through the mines for the enemy. The map features three points of entry: two to the north-east, the upper one leading through the single short-cut present, and the lower one leading all the way along the road and defensive lines; and one to the south-east. It is the only level on which the player has access to the Sasquatch, an ancient beast who must be freed before being used.
Scenery
Wave Composition
Events

LIKE A HENDERSON Free the Sasquatch on the Icewind Pass.
Ad blocker interference detected!
Wikia is a free-to-use site that makes money from advertising. We have a modified experience for viewers using ad blockers

Wikia is not accessible if you've made further modifications. Remove the custom ad blocker rule(s) and the page will load as expected.