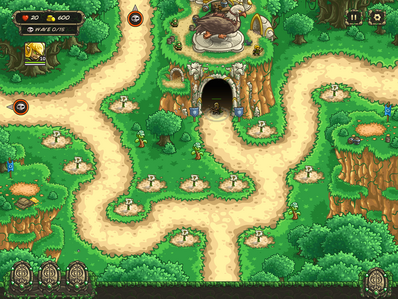 General, we must resist at all costs, until the young princess can escape safely to Linirea!
Gryphon Point is the sixth level in Kingdom Rush: Origins. The Wild Magus is unlocked in this level.
Rangers
Rangers are elven archers that guard Alleria Swiftwind that shot at enemies dealing around 10 damage. Two are on left side of hill and one emerge and submerge from door. They are same as Ranger Camp
Waves
Campaign
After wave 15, Hi-Hi Enha is pulled to the battle, a short distance from the western entrance, to attack. This is not counted as a wave.
Events

The Wild Magus wields magic in
its raw most uncontrollable form,
dealing bonus damage on each
consecutive hit.

DOGFIGHT ACE Have your Gryphon Riders defeat 25 Perythons.
WHY SO SERIOUS? Defeat Hi-Hi Enha, the Gnoll Chieftain.
Trivia
Ad blocker interference detected!
Wikia is a free-to-use site that makes money from advertising. We have a modified experience for viewers using ad blockers

Wikia is not accessible if you've made further modifications. Remove the custom ad blocker rule(s) and the page will load as expected.