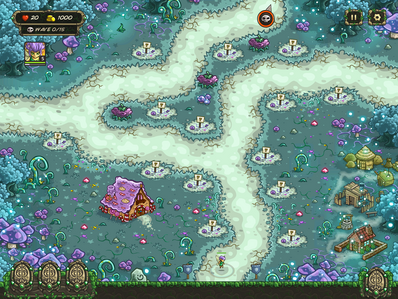 "The fearsome Forest Keepers will fight on our side, but some of the fae have joined our enemies and our troops are nervously wondering what those approaching frumious sounds are..
Praised be Elynie, one of our elite archer groups of Golden Longbow has managed to get through the enemy lines and are holding down a position among the enchanted houses of Grimmsburg. General, they need our help now!"
Grimmsburg is the eighth level in Kingdom Rush: Origins. The Golden Longbow and Forest Keepers are unlocked in this level.
Waves
Campaign
Events

PEEKABOO Find the three playing friends.

CANDY RUSH Save Hans and Ethel.

FEE-FI-FO-FUM! Grow the beanstalk to the clouds!
Trivia
The name Grimmsburg is taken from The Brothers Grimm, who wrote many of the classic fairy tales that are still told today.
Several well known fairy tale characters feature in the level, all of which unlock certain achievements.

The Gingerbread House in the middle is home to a witch, who can be lured out and tapped on to kill, freeing the two children she was holding captive, a reference to Hansel and Gretel.
In the top left corner is a tiny beanstalk, that after several taps will grow to a massive size, and a small boy will climb up and throw down a box of treasure. The treasure box will net you 150 gold.
On the right hand side are three houses, one made of straw, one of wood and one of bricks as told in the Three Little Pigs. One pig will pop his head out of the doors occasionally.
On the forest edge on the far right, Red Riding Hood and the Big Bad Wolf will also peek out of the tree line.
Ad blocker interference detected!
Wikia is a free-to-use site that makes money from advertising. We have a modified experience for viewers using ad blockers

Wikia is not accessible if you've made further modifications. Remove the custom ad blocker rule(s) and the page will load as expected.