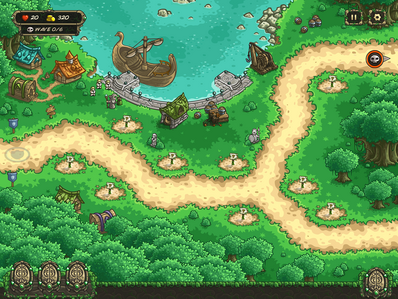 "General, a band of Gnolls approaches! They are beasts, who only think about looting and burning everything in their wake; but they will be sorry they ever left their arid hills...
For the Queen!"
Gray Ravens is the first, introductory level in the game comprised of 6 waves. The player starts with 9 Strategic Points to build at. Only level one towers are initially available.
Scenery
Wave Composition
Events

GET THE PARTY STARTED Win stage 1 with 3 stars.
Trivia
Unlike the first levels of both previous games; Southport and Hammerhold; Gray Ravens is the first to have two entrances for enemies.
The name Gray Ravens is a play on Grey Havens, a place in Lord of the Rings: The Return of the King, where the Elves, along with Gandalf and Frodo depart to at the end of the journey. The scene is depicted in the top left corner, where a wizard, a halfling and three elves stand by the coast.