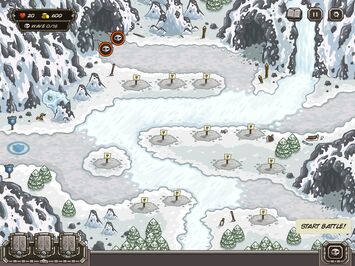 Pack your winter gear, troops; we're heading for the Glacial Heights! The locals have reported some disturbances, and our King commands we march upon the heights to investigate these reports. Watch out, because the heights have become the icy tomb of many an unprepared explorer.
You might freeze to death, that is, if the savage Ha'Kraj trolls don't get you first!
Glacial Heights are the eighteenth stage in Kingdom Rush and the first stage in the Winter Storm mini-campaign.
Scenery
Wave Composition
Events
Elite Stage!
This is a stage of extreme difficulty.
Over 50
stars
are recommended to face this stage.

Elite troll warriors that
become unblockeable (sic) while
standing on ice
– Unblockable on ice
– Health regeneration
– Average speed

Armored, Combat-Trained
trolls, these brutes can tear
through even the most
sophisticated of defenses.
– Very high damage
– Superb regeneration
– Low speed
Related Achievements

 COOLRUNNING Defeat 10 Troll Pathfinders while they're treading on ice.
Troll Pathfinders can't be stopped, so use lasting damage like Poison or ranged damage like Overcharge.

 SCRAT'S MEAL Find the elusive Acorn!
Scrat is found near the level exit, and his acorn is trapped in ice. Click/tap the ice enough times to break it.