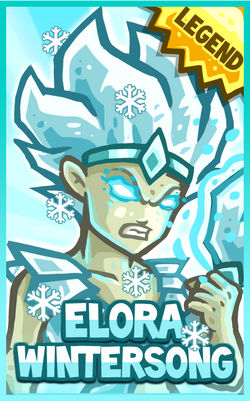 Ice, ice, baby!
Elora Wintersong
is a
hero
unit in
Kingdom Rush
. She must be unlocked by buying the
Premium Content
or purchased with $4.99 (iOS versions).
Description
If magic was made of ice, it would melt, run through her veins, and freeze again. Good, but merciless, she will freeze and shatter any who cross her!
Stats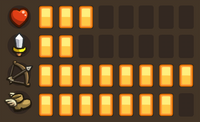 Statistics
| Level | HP | Melee Damage | Ranged Damage | Armor | Respawn |
| --- | --- | --- | --- | --- | --- |
| 1 | 270 | 1-2 | 14-41 | Low (5%) | 15s |
| 2 | 290 | 2-4 | 16-47 | Low (10%) | 15s |
| 3 | 310 | 4-6 | 18-54 | Low (15%) | 15s |
| 4 | 330 | 6-8 | 20-61 | Low (20%) | 15s |
| 5 | 350 | 7-11 | 23-68 | Low (25%) | 15s |
| 6 | 370 | 9-13 | 25-74 | Low (30%) | 15s |
| 7 | 390 | 10-16 | 27-81 | Medium (35%) | 15s |
| 8 | 410 | 12-18 | 29-88 | Medium (40%) | 15s |
| 9 | 430 | 14-20 | 32-95 | Medium (45%) | 15s |
| 10 | 450 | 15-23 | 34-101 | Medium (50%) | 15s |
Skills
Permafrost

Slows ground enemies in a line from Elora for 3 seconds. (Cooldown: 8 seconds)
| Ability Level | Hero Level | Distance |
| --- | --- | --- |
| 1 | 2 | Short |
| 2 | 5 | Moderate |
| 3 | 8 | Long |
Ice Storm

Calls icicles to a place, dealing area damage. (Cooldown: 10 seconds)
Ability Level
Hero Level
Damage
per icicle
Number
of icicles
1
4
30-60
3
2
7
30-60
5
3
10
30-60
8
Tips and Tricks
Gallery