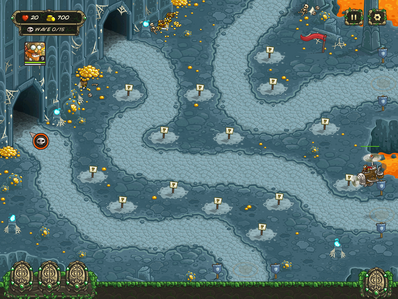 War is over or so we thought…
Because even as our Kingdom goes back to its former peace and prosperity, the messengers we sent asking for aid from the Dwarves never returned. And if there's something more troublesome than a loud dwarf, it's a silent one!
You must travel to their land and seek answers.
Dwaraman Gates is an elite stage in Kingdom Rush: Origins, the first one in the Forgotten Treasures mini-campaign.
Scenery
Waves
Campaign
Events

Corpses animated by dark
magic, with only one order in
their minds. Destroy.
– Slow
– Low armor

These servants of Godieth have
an insatiable hunger. They
devour everything in its path.
– Fast
– Low armor
– Consumes soldiers

Corrupted creatures who spit
dark blood. Their precision is
lethal.
– Average speed
– Regeneration
– Dark Spit
Ad blocker interference detected!
Wikia is a free-to-use site that makes money from advertising. We have a modified experience for viewers using ad blockers

Wikia is not accessible if you've made further modifications. Remove the custom ad blocker rule(s) and the page will load as expected.