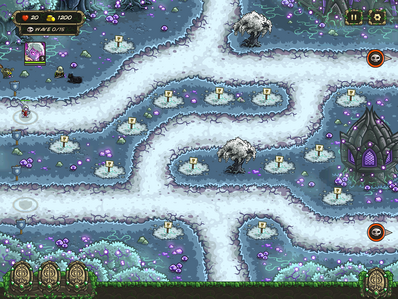 General, we must advance without delay to the Twilight Elves' capital. Malicia's last loyal lieutenant is preparing a terrible and powerful spell that will destroy everything in sight.
If we don't stop him this will be the end of the continent!
Duskwood Outpost is an elite stage in Kingdom Rush: Origins, the first one in the Bittering Rancor mini-campaign.
Scenery
Waves
Campaign
Events

When activated, this magical tree
will put all nearby enemies to
sleep for a short time.

Fast, gruesome beasts made by
the Twilight Elves. Created only
to seek and destroy.
– Fast speed
– High damage

NIMLOTH THE FAIR Stun 200 enemies with the white tree's power.
Trivia
The Dark Elf and the black panther from the top left corner of the level are based on Drizzt Do'Urden and Guenhwyvar from Dungeons and Dragons.