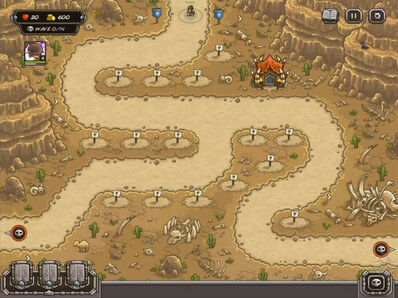 "It seems the attack at Sape Oasis was merely a distraction, and Lord Malagar has escaped towards Buccaner's Den.
We have no choice but to cross the treacherous Dunes of Despair. There is no time to go around them, so beware of the shifting sands, as the mysterious beasts crawling through them have cause the doom of many an experienced explorer!"
Dunes of Despair is the fourth level in Kingdom Rush: Frontiers.
Scenery
Wave Composition
Events
Related Achievements

 MUA'DIB Complete stage 4 without losing any soldiers to the Sand Worm.
Play with the sound on so you can hear the approach of the Sandworm. It will appear under your stationary troops (including placed reinforcements), limit the number you have so it makes it easier to move them out of the way.

 MONEY TALKS Hire 10 or more mercenaries.
Purchase three Legionarres for the level, and repeat the level 4 times. Alternativly, play on Iron Mode where there are more camps.
 STUFF 'O' MAKER Have a genie polymorph 10 enemies.
Purchase 3 Genies and they should polymorph enough enemies in one level.
Ad blocker interference detected!
Wikia is a free-to-use site that makes money from advertising. We have a modified experience for viewers using ad blockers

Wikia is not accessible if you've made further modifications. Remove the custom ad blocker rule(s) and the page will load as expected.