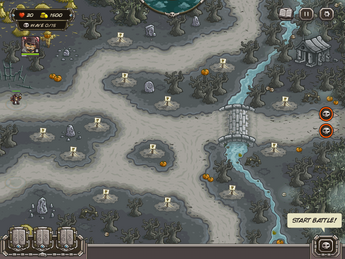 We've freed Bonesburg and chased hese nefarious beings to an eerie forest. Can you feel the malice radiating from it? Twisted, gnarled trees house dark altars, stages for forbidden rites. Dark horrors prowl the shadows, battle is upon us!
Desecrated Grove is the twentieth stage in Kingdom Rush: Frontiers and the second in the Shadowmoon mini-campaign.
Waves

 GHOSTBUSTERS Complete the Desecrated Grove without any ghosts escaping.
Events

Tortured spirits that roam the
wastes, seeking release from
their eternal suffering.
– Only vulnerable to
magic
– Does not follow paths
– Unblockable

Powerful warriors that shift
into terrible beasts
– Health regeneration
– Spreads lycanthropy
– Can shift into a werewolf

Spectres of ancient warriors..
their cold presence snuffs the
life out of the living.
– Only vulnerable to
magic
– Death aura
Trivia
Ad blocker interference detected!
Wikia is a free-to-use site that makes money from advertising. We have a modified experience for viewers using ad blockers

Wikia is not accessible if you've made further modifications. Remove the custom ad blocker rule(s) and the page will load as expected.