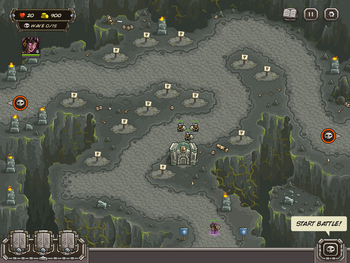 The Dwarves are one of our staunchest allies, and our King has named them 'Guardians of the Caves'. In their quest for the Lost Kingdom of Loria, they have stumbled upon a network of secret Saurian tunnels.
Through them an enormous horde of Saurians is heading for the surface, bent on conquering Linirea under the taloned foot of Xyzzy , the Saurian King. You must join the Dwarves in stopping Xyzzy and his beasts... for only Denas can be King of Linirea!
Darklight Depths is the twenty-second stage in Kingdom Rush: Frontiers . 
Waves
YOU'VE FOUND ME Find the hidden mortal reptilian combatant .

I'M THE LIZARD KING Defeat Xyzzy , the Saurian King.
Events

Trained to develop perfect
accuracy, these elite Saurians
wield deadly advanced
crossbows.
– Costs 2 lives
– Ranged attack
Trivia
The kingdom the dwarves are searching for, 'Loria' is based on the similar sounding Moria from The Lord of the Rings. It is a great underground Dwarven City where Gold, Mithril and many other treasures are mined.
This is referenced again in the level, a faint outline of an arch can be seen on the wall in the lower right corner. Clicking on it will light the arch much like how the door to Moria is seen in the film adaptation of The Fellowship of the Ring