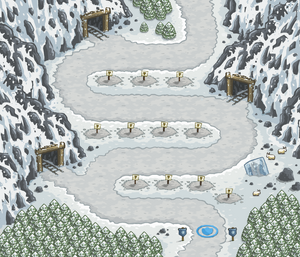 The fist step in your journey will be the Coldstep Mines, which were abandoned yearsago, and are now home to the Ha'kraj Troll tribes. To aid you in your mission, you will be joined by a brigade of his Majesty's Royal Musketeers."
Coldstep Mines is the seventh level in the game comprised of sixteen waves. The player starts with 700 Gold and eleven Strategic Points to build at. It is the first of two scenarios to have short-cuts through the mines for the enemy. The map features three points of entry starting from the single direction: the central route leads the attackers all the way along the player's defences, while left one leads through the rightmost short-cut and the right one cuts most of the way through the leftmost short-cut.
Wave Composition
Events

Greatest range and
very high damage.
Very tough warrior that can
regenerate their wounds
quickly.
– Very high damage
– Health regeneration
– Average speed
Try to kill them fast to
prevent regeneration.
Cunning & deadly, these beasts
can defeat all but the best
warriors.
– High magic resistance
– Can dodge melee attacks
– Very fast speed
Trivia
The Frozen mammoth in the corner makes an appearance in Clash of the Olympians also by Ironhide, as a item thrown by Hercules.
Ad blocker interference detected!
Wikia is a free-to-use site that makes money from advertising. We have a modified experience for viewers using ad blockers

Wikia is not accessible if you've made further modifications. Remove the custom ad blocker rule(s) and the page will load as expected.