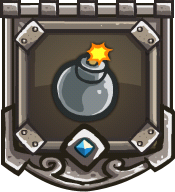 Artillery are one of the four main tower types in Kingdom Rush, displaying the technological advances of Linirea's dwarven race. They launch large-caliber ordinances at the enemy, doing splash damage to all caught in the blast radius. In Kingdom Rush: Origins the artillery tower remains the same in terms of usage, but are referred to as Druids, which feature ancient beings throwing stones at enemies.
Tower Properties
Some characteristics shared by all Melee towers are:
Artillery Towers deal damage to a number of enemies at once
Artillery Towers cannot directly attack flying units, with the exception of a few towers
Artillery Towers are the slowest attacking towers, and the most expensive
Artillery towers only do physical damage, but they can still do major damage to armored troops . No need to fear when this tower is around: your enemies will soon rest in pieces.
There are five Melee Towers in all Kingdom Rush games:
Three non-specialized towers
Two specialized towers
The three non-specialised towers differ in each game but have the same purpose. Each upgrades a stage further before offering a split choice between two new towers with additional upgrades to further boost the towers offensive and defensive capabilities.
Tower Summary
Kingdom Rush
Towers
(Level)
Damage
Fire Rate
Range
Build
Cost
Specials

Dwarven Bombard
(Level 1)
8-15
Very Slow
Average
125g
None

Dwarven Artillery
(Level 2)
20-40
Very Slow
Average
220g
None

Dwarven Howitzer
(Level 3)
30-60
Very Slow
Long
320g
None

500mm "Big Bertha"
(Level 4.a)
50-100
Very Slow
Long
400g
Dragonbreath Launcher
Cluster Launcher

Tesla x104
(Level 4.b)
60-110
Very Slow
Average
375g
Supercharged Bolt
Overcharge
Armed with ludicrously-sized cannons, these dwarves are more than willing to launch their explosives at enemy hordes. They are the slowest and most expensive out of all the towers, so explosion-happy generals must plan carefully before putting themselves under the heavy money commitment.
At Level 4, the engineering prowess of the dwarves really comes into play. The 500mm Big Bertha siege weapon launches long-ranged rockets and other fancy ordinances at enemies, while the Tesla x104 harnesses the power of electricity to shock troops into submission.
Kingdom Rush: Frontiers
Towers
(Level)
Damage
Fire Rate
Range
Build
Cost
Specials

Dwarven Bombard
(Level 1)
8-15
Very Slow
Average
125g
None

Dwarven Artillery
(Level 2)
20-40
Very Slow
Average
220g
None

Dwarven Howitzer
(Level 3)
30-60
Very Slow
Long
320g
None

DWAARP
(Level 4.a)
25-45
Very Slow
Long
400g
Core Drill
Furnace Blast

Battle-Mecha T200
(Level 4.b)
25-55
Very Fast
Short
375g
Wasp Missiles
Waste Disposal
DWAARPs completely annihilate oncoming hordes of foes and burn them with Furnace Blast while the Battle-Mecha T200 blasts enemies into pieces with it's mortar and targets enemies with it's Wasp Missiles and slows enemies that get stuck in the garbage it produces.
Kingdom Rush: Origins
Towers
(Level)
Damage
Fire Rate
Range
Build
Cost
Specials

Stone Circle
(Level 1)
7-12
Very Slow
Short
125g
None

Boulder Circle
(Level 2)
18-30
Very Slow
Average
220g
None

Menhir Circle
(Level 3)
30-50
Very Slow
Long
320g
None

Arch-Druid Henge
(Level 4.a)
30-50
Fast
Long
375g
Sylvan Curse
Runed Bears

Weirdwood
(Level 4.b)
602-106
Very Slow
Great
400g
Fiery Nut
Clobber

The Arch-Druid Henge blast enemies to pieces with fast shooting rocks of doom while keeping them in place with Runed Bears and applying horde destroying curses. Weirdwoods, the wrath of the forest, throw the biggest nuts known to man and even ones that have caught on fire while stunning and damaging the groups around it with it's big hands.
Tower Tactics
General Tips
Artillery Towers are most suitable for dealing with overwhelming groups of low-to-medium health ground-based enemies (The Tesla is an exception: Its strength lies more in damage and not so much 'overwhelming' amounts). Artillery are less effective against enemies with sheer high health (Swamp Things, Pillagers, Saurian Brutes) and are absolutely powerless to Bloodshells.
In original Kingdom Rush, a way to approach levels is to blitz Artillery and Barracks. The idea is for Artillery to make short work of enemies while Barracks hold them in one place. This means that you can focus few and strong towers in one area, especially good if you purchase the Field Logistics and Industrialization upgrades for artillery. Specialising tower types means you can purchase upgrades in fewer paths and make the most of your stars and money. However, Flying enemies are a major flaw, where Teslas are unlocked very late in the game and even then are incapable against Rocket Riders and Imps . The Javelin Throw Upgrade and Barbarians are the only way to compensate while practicing this strategy.
Advantages
Disadvantages
Kingdom Rush
Kingdom Rush: Frontiers
Kingdom Rush: Origins
Pages in category "Artillery Towers"
The following 12 pages are in this category, out of 12 total.
Ad blocker interference detected!
Wikia is a free-to-use site that makes money from advertising. We have a modified experience for viewers using ad blockers

Wikia is not accessible if you've made further modifications. Remove the custom ad blocker rule(s) and the page will load as expected.