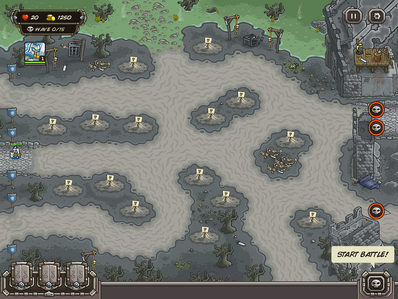 Sadness overtakes our hearts as we lay our eyes on a fallen champion.
So deeply did Lord Blackburn yearn for the power to battle evil, that it corrupted him, sinking his lands into the grip of darkness.
Alas, he cannot be saved; but we have arrived just in time to rescue good King Banesti from being hanged.
General, you hold the key to the peace between the kingdoms... defeat Lord Blackburn and perhaps death will give him a measure of redemption!
Castle Blackburn is an elite stage in Kingdom Rush and the fourth in the Curse of Castle Blackburn mini-campaign available on Steam, iOS and Android.
Scenery
Wave Composition
Trivia

Ad blocker interference detected!
Wikia is a free-to-use site that makes money from advertising. We have a modified experience for viewers using ad blockers

Wikia is not accessible if you've made further modifications. Remove the custom ad blocker rule(s) and the page will load as expected.