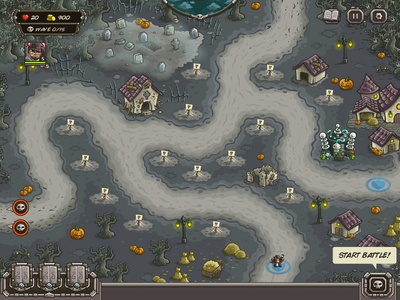 An endless night is upon us! Something wicked has awakened, plunging the area into darkness! Mindless horrors prowl the land in search of human prey!
Our king has tasked you with protecting the defenceless villagers and finding out what is causing this blight... the realm needs you!
Bonesburg is the nineteenth stage in Kingdom Rush: Frontiers and the first one in the Shadowmoon mini-campaign.
Waves
Zombies and Ghouls are also spawned from various points in the level during waves that do give gold when killed. These are not listed in the above table.
Events
Trivia
Bonesburg features a graveyard similar in appearance to those seen in the first Kingdom Rush game. However it is only for decoration and does not spawn any additional enemies.
Ad blocker interference detected!
Wikia is a free-to-use site that makes money from advertising. We have a modified experience for viewers using ad blockers

Wikia is not accessible if you've made further modifications. Remove the custom ad blocker rule(s) and the page will load as expected.