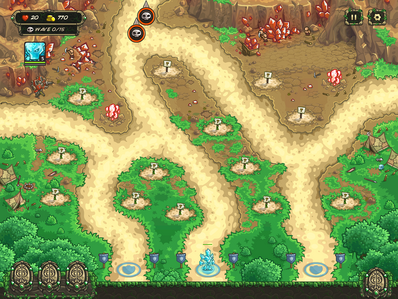 This is where the Ogres extract the corrupted mineral that feeds their sorcery. We can weaken their warlocks if we manage to cut off their supply of bloodsydian.
General, we must also fight to free all the slaves!
Blood Quarry is an elite stage in Kingdom Rush: Origins, the second one in the Hulking Rage mini-campaign. It is unlocked by beating Galadrian's Wall. The secondary hero Malik (not called Hammerfury yet) appears in this level.
Scenery
Waves
Campaign
Events
These spell casting Ogres have
the power to absorb damage
from nearby enemies.
– High magic resistance
– Fast health Regeneration
– Lifelink aura

MITCHELL-HEDGES Collect the 3 strange skulls.

MALIK UNCHAINED Help Malik escape.
Trivia
At the top left lies the remains of an SCV from StarCraft.
Ad blocker interference detected!
Wikia is a free-to-use site that makes money from advertising. We have a modified experience for viewers using ad blockers

Wikia is not accessible if you've made further modifications. Remove the custom ad blocker rule(s) and the page will load as expected.