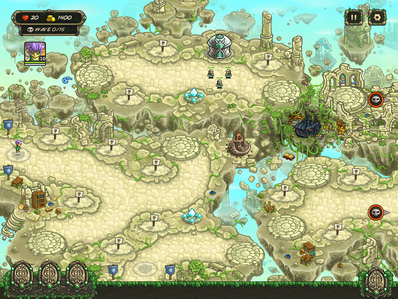 The City and its debris float in the shape of the most dangerous stairway imaginable.
Our enemies retreat into the heart of the City while we doggedly pursue them across deadly chasms. We do not know why they have decided to go around the Arcane Council area. It might be a trap, but it is our only chance to recover some ground.
There is an ominous silence blanketing the place, as if even the birds fear awakening something...
Arcane Quarters is the thirteenth level in Kingdom Rush: Origins.
Waves
Campaign
Heroic Challenge
Iron Challenge
Events

Flying magical creatures, they
lay eggs in their victims, to
spawn their offspring.
– Flying
– Average speed
– Breeds from soldiers

Small spiders mutated by
magic. They always come in
large numbers.
– Fast speed
– Low health
– Medium magic resistance

Warlocks corrupted by evil,
they command forces beyond
comprehension.
– High magic resistance
– Soul consumption
– Grip of darkness

SORCERER'S APPRENTICE Find the three apprentice relics!

D&D Have Beresad and Ashbite defeat 100 enemies.
Trivia
There is a sign in the center of the far left side labeled: "SARANDI CDXXV" (CDXXV is 425 in roman numerals) or Sarandi 425. The address connects to Sarandí 425, Maldonado, Uruguay. Ironhide's first studio was at that address.