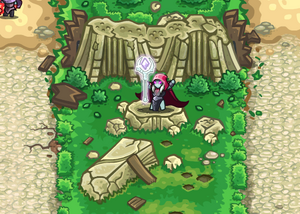 The Invasion begins!
Ainyl, sister of Malicia, is the commander of the Twilight Invasion on the elvish capital of Aredhel.
Description
Ainyl is a dark priestess that will use all of her powers to get the upper hand against you. She taunts you and has an arsenal of rather annoying abilities to hinder your defences.
Her first spell is an Energy Shield that surrounds a single enemy, usually at low health. This shield absorbs damage taken, similar to the Demon Lords from the original Kingdom Rush.
Her second ability is a Teleport. For a second, Ainyl's staff will glow and she will raise it up before she slams it on the ground and teleports a group of enemies forward a short distance. This is a very dangerous ability, especially if she uses it on a group that is near or at your choke point.
Finally, like the Spider Goddess and Umbra after her, Ainyl can Destroy any tower on the stage. It is highly dangerous in later waves.
Quotes
Before Wave 1 starts:
The invasion begins!
...Muahahahahaha!!!
All bow to your new Queen!
During the Endless Mode:
The dark times commence!
Prepare to say farewell!
You can run but you can't hide!
Death to all who oppose us!
Notes
Her name is pronounced Eye-nil, according to the Ironhide developers.
Ad blocker interference detected!
Wikia is a free-to-use site that makes money from advertising. We have a modified experience for viewers using ad blockers

Wikia is not accessible if you've made further modifications. Remove the custom ad blocker rule(s) and the page will load as expected.